Isabis Formulae
Vitamin-C-Serum – BEST Anti-Aging Serum For Face – REVOLUTIONARY 20% Vit C + A & E Antioxidant Serum Proven To Reduce Wrinkles, Boost Collagen & Even Skin Tone To Give YOU Smoother, Brighter & Younger Looking Skin.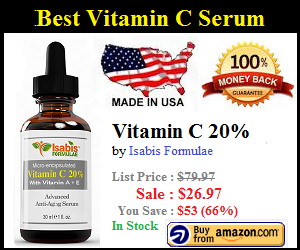 ★ MOST EFFECTIVE TOPICAL VITAMIN C SERUM FOR FACE & SKIN – Scientifically Formulated with Micro-encapsulation and Slow Release (SR) Technology, Isabis Vitamin C 20% With Vitamins A & E Gives You MAXIMUM Antioxidant Protection To ELIMINATE the Harmful Free Radicals On Your Skin That Cause Premature Aging. It's USA Made & 100% Paraben Free.
★ REDUCES WRINKLES & FINE LINES. This BREAKTHROUGH Serum Contains PREMIUM Ingredient Matrixyl Synthe 6, A Revolutionary Super Anti Wrinkle Peptide PROVEN To Boost Collagen, Elastin & Hyaluronic Acid Production To Restore Your Skin's Youthful Look And Elasticity.
★ EVENS YOUR SKIN TONE – Gradually Fading Age/Dark/Sun Spots & Freckles/Blemishes/Discolorations. It's Highly Effective As The Added Glycolic & Salicylic Acids Gently Exfoliate The Dead Surface Skin Cells To Allow A Deeper Penetration Of The Active Ingredients. It's This "Missing Step" That Prevents Many Anti-aging Products from Delivering Results!
★ SUITABLE FOR ALL SKIN TYPES – Our Customers (Men and Women) Love The Way Our Serum Is Rapidly Absorbed, As Well As The Way It Is Non-Greasy, Non-Sticky & Non-Watery. Also, The Vitamin A Will Especially Help Acne and Rosacea Prone Skin. Isabis Vitamin C Serum Is An Advanced Premium Grade Serum That Will Deliver You RESULTS – Or Your Money Back!
★ We Offer A Hassle-Free 100% MONEY BACK GUARANTEE. There Is Absolutely NO RISK If You Order Now. If You Are Not Completely Satisfied, Simply Contact Us and We Will Give You a Full Refund, No Questions Asked ==► So Order Today Whilst It's At A Huge 66% Saving and Watch Your Youthful Skin Return